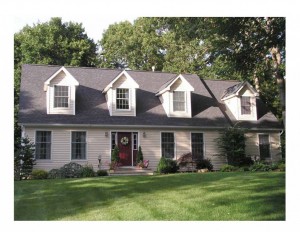 The Cape Cod house is as firmly embedded in the imagery of New England as clam chowder, rocky beaches, and quaint town greens. A design that dates back over three hundred years, it remains a popular style for homeowners well into the 21st century.
Cape Cod homes are a great choice for those looking for a house that's small, sturdy, and stylish. Let's take a look at the history and design features of a Cape and consider whether it'd be the right choice for your dream home:
History
The Cape Cod house was designed by British settlers in New England in the 1600s. It was based on anancient design that was popular in the United Kingdom. Timothy Dwight, a one-time president of Yale University, is credited with developing the name "Cape Cod" for these homes.
As settlers became accustomed to the region's summer storms and harsh winters, they began modifying and evolving unique design features for Cape Cod homes. As the United States expanded its territory and population, the Cape Cod remained a popular design template, enjoying a renaissance beginning in the 1930s when "Colonial Revival" homes began springing up.
Architect Royal Barry Willis was particularly fond of the Cape Cod home and its simple but sturdy design. He used it to develop housing stock following the massive demand for new homes after World War II, tweaking design features to suit the needs of growing Baby Boomer families.
Design Features
Traditional Cape Cod homes are single-level. They feature a centrally located chimney, clapboard or shingle siding, white interior paint, hardwood flooring, pitched roofs, and generally feature simple exterior trim work. The centrally located chimney served to keep residents warm in the winter, while the clapboard siding and lack of exterior panache helped minimize costly and time-intensive repairs following heavy storms.
As Cape homes evolved, the chimneys were shifted to a different part of the house and different types of Capes emerged, such as half, full, or three-quarter depending on window placement. Room layouts reflected the changing needs of families.
Cape Cod Modular Homes — A Great Option
Depending on your exact location, purchasing a Cape Cod house could mean acquiring an old house that's charming but requires costly repairs, renovation, and a need for upgrading to modern materials.
If you're interested in investing in a home that offers the rustic beauty of a Cape Cod without the expensive maintenance required to keep it in optimal condition, you should consider a Cape Cod style modular home.
Cape Cod style modular plans offer design flexibility, modern efficiencies, and can be obtained at an affordable price. Westchester Modular Homes, in business for almost thirty years, offers six different varieties of Cape Cod modular homes to choose from, all with the latest amenities to ensure an energy-efficient, cost-effective residence.