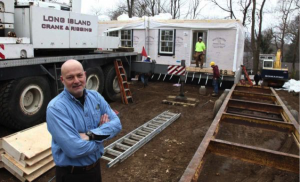 Cedar Knolls is a Long Island based General Contracting Company specializing in custom homes, modular home construction, additions, and larger renovation projects.
Founder and President of Cedar Knolls, Howard Kipnes, has built a reputation of exceptional quality, customer service and integrity for more than 25 years. All clients work directly with Mr. Kipnes; he is involved in the entire home building process, having full knowledge of every project from design to completion.
We take great pride in completing our projects on schedule and exceeding our clients expectations. Production scheduling is organized so the various trades follow each other rather than converge on each other. Our dedicated clean-up crews keep the construction sites safe and clean. The result is a home that exudes superior quality and attention to detail.
We are experienced with the many different types of architectural styles, materials and systems built components. Whether your project is a custom modular home or a traditional stick built, log or timber frame home, Cedar Knolls has the capabilities to build, renovate, or add to your dream home!
We proudly supply our references! Please contact us.